It's one of those times when you're just sick of the same old same old and fancy a change.
I'm changing the way i look, the most common thing (and probably easiest thing) to change.
Currently i'm brunette. Naturally im dirty blonde and this is the colour i want to go back to. I've been proper blonde before, thought it looked good but looking back on pictures it just looked VERY yellow. Tweety bird anyone?
So im going with the more natural looking blonde that will match my eyebrows.
I'm a little scared to do it because it will be quite a change but i know that i will be happier for it. I've just bought this product called colour B4, so like when you die your hair the wrong colour you can correct it. The best thing about it that there's no ammonia and no bleach! it's going to be pretty soft on my hair. It also removes colour build up, which is what i'm trying to do as i've coloured my hair more than just the once.
Everyone who's used it has recommended it, well there's the odd few that it hasn't worked for but i'm going to get my friend (a professional hair dresser) to do mine for me :)
Why don't i just have her bleach it for me? Because i dont agree with using it on my head, its good for cleaning and thats about it!! (i know, not actually exactly the same thing but still!)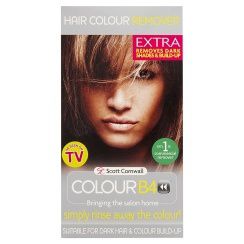 This is the one i bought. the extra strength for darker hair. it cost me £10.99 from superdrug, so its pretty expensive. However if you have lighter hair get the normal strength as it's much cheaper!!
I'm prepared for my hair to turn ginger, as it says that the peroxide in the hair dyes i've used lightens your hair and then the colour B4 does something that gives you the coppery tones after it takes away the other colour/hair dye build up. But if you just use an ash colour it covers the red tones and nutralises it :)
I bought the nice 'n' easy 8 shampoo, medium ash blonde, because it also recommends that you dont wap on a permanent dye straight after using colour B4. Use a permanent when you're hair has had time to recover and you're sure what colour you want.
I'm not doing that tonight, tonight my hair dresser friend is coming over to help me apply my fake tan! :D
i don't normally wear the stuff but its good to try new things.
I'll let you know how the dying goes... fingers crossed!!