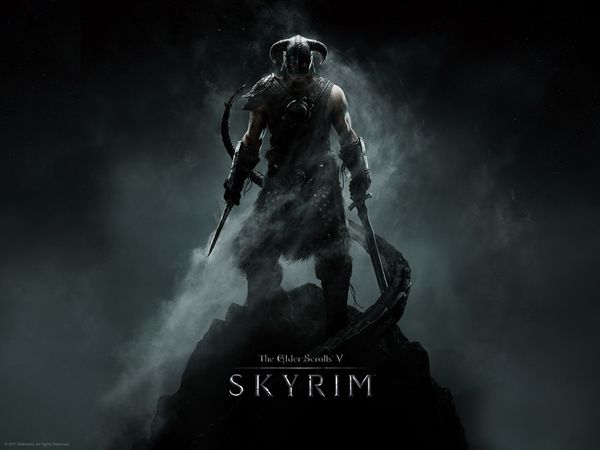 I do not own this image; copyright infringement not intended. Bethesda own bitches...
So you may have heard about this game. Or even played it?
Well there's quite a few in the Elder Scrolls series. I've only played Oblivion- i have to say that these games are just creepy. Don't get me wrong, i absolutely LOVED playing Oblivion (i'm still playing Skyrim) but they're just so dark- which makes them scary in my opinion!! When you go down a cave or a mine you can barely see where you're- oh wait no, right into the jaws of some scary troll thing...
Seriously though, i have to say that Skyrim is one of the best games i've ever played. I have it on the xbox- my brothers xbox haha- and there's not many games that i like/can play. Of the others are the Saint's Row and Grand Theft Auto- although GTA is definitely a PS2/3 game and so i haven't bought any of them for xbox. (i used to have a PS2 so i had all of the GTA's then).
I can't do racing games and i can't do shooting games- or resident evil of any kind. Those games are just too scary- although i love the films, which is weird.
I'm going to talk- probably too much- about Skyrim now. Sorry if i bore you or you don't want any spoilers about the game.
I'll put the trailer in first. Again i do not own this- probably Bethesda do again. So no copyright infringement intended!
Basically one big word sums up this game: DRAGONS!!!
Now if you've played Oblivion, the dragons are equal to the oblivion gates. Oblivion gates were missions themselves, and thankfully the dragons are not as long. Although they are VERY tough when facing one alone or if you're a crappy level. I'm at level 32 now- probably 35 by tonight when i get home and play a little more! :D
I really think that Bethesda have outdone themselves on this one! The graphics and gameplay are amazing! If we're comparing to Oblivion they're on totally different levels. Oblivion graphics and gameplay was good but Skyrim... you'll have to play them both to see for yourself.
One of the best improvements is the fact that the NPC's (non-playable characters so i found out) go along with their own lives as you complete your quests and missions. In Oblivion they just stood still, whereas now they actually do the job they're supposed to be doing. i.e blacksmiths will be smithing, cooks cooking etc. There's also children in this one too and they run around playing tag and what not. I played tag with them for a while- got bored cause they kept catching me. REALLY need to improve my stamina on that game.
And then the graphics. Moving water, swaying trees, good character detail- it's brilliant!!
I think the most annoying thing on Skyrim though is the Dragon language. Everytime they attack i hear the word 'Skuldafn blah blah...'
Turns out Skuldafn is a dragon temple where you can gain access to Sovengarde- where all the dead people go. Or just the honourable ones anyway. Still, VERY annoying!! They phase between dragon-English. e.g. 'DIE HUMAN! skuldafn blah blah blah....'
I've done the main mission, which is defeat the evil dragon called Alduin. Some of the missions quite hard, and i was expecting the final mission to be ridiculous but i killed him swiftly and that was that. In order to get to him though, as he's gone to Sovengarde the inconsiderate fool, you have to go through wait for it- SKULDAFN temple.
I went there when i was level10, encountered a dragon and a load of Drugr and was like 'nah'. So i went back at level 30 when i'd managed to obtain some better weapons and armour. The Sanguine Rose is a MUST!! it's the best weapon on there by far. You can summon Daedra to fight for you in battle and when you're facing around 5 Deathlords at the same time, it's a life saver!!
5 Deathlords you say? Yeah, well they're tough, especially with their disarming shouts. I almost lost my Sanguine Rose twice!!! I would've smashed the load button though. Then i got out my flaming sword and went charging at them with my daedra. Ended well after about 3 reloads and a change of tactics.
I was waiting for the 2 dragons and the dragon priest to come get me when i reached the very top of the temple (and the portal to Sovengarde) but was only met by an easily dispatched dragon priest. Drago preists are usually as tough/tougher than the deathlords but i guess after defeating 5 deathlords at the same time is going to make killing a mere one dragon priest easy... Apparently, there's a glitch where the 2 dragons see you but just don't attack. I was thankful that this appeared to happen for me :)
Then i jumped into Sovengarde...
And as with Oblivion, it was a beautiful place; nice starry sky, lots of trees and even a river. They always make the baddies hiding place look awesome. What was best though, was the whale bone bridge to the hall of valor (i think thats what it was called) where i saw all these people i'd killed or seen get killed. Talk about awkward... hahaa
And then i went out with 3 other dead ghost warriors who helped me defeat Alduin. I imagine had the battle occurred with the player alone, like Skuldafn temple- which was definitely harder than killing the big guy- then it would probably have been really hard. The other players distracted Alduin so then I hardly lost any life- if any at all!!
Now that's over what do i do now?
All the other quests. And seriously there's LOADS!!! So far i'm Archmage, Guildmaster of the Thieves, an imperial soldier and a companion (not fully fledged). I'm also going with the dark brotherhood just for the horse. SHADOWMERE <3 the horse that just does not die! :D
All the while i'm trying to become whatever title it is that the Jarls give you when you do their missions and gain favour. I'm all good in Whiterun and getting there at Solitude and Whiterun. Maven-black-briar, what an evil mare!
I mean i could go on hours, but then that would get boring for you ;)